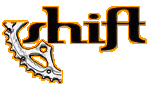 Bringing people together for Bike Fun
in Portland, Oregon
You are welcome to ride your bike with us. Yay! Fun! Most rides are non-competitive and free-wheeling, tending toward social gathering. Once you feel comfortable in the saddle, you are encouraged to

lead a ride

of your own.




Shift is part of the

World Carfree Network

, which promotes alternatives to car dependence.