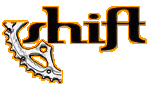 Bringing people together for Bike Fun
in Portland, Oregon
Ride Invention tips
:
Consider your ridership
Will the ride be for family-types or for the independently-natured? Give your riders some idea about the ride's behaviorial tone.
Determine a start location
If it is not in the biker-hive of Portland's SE, then consider a place reachable none too far from a MAX transit station.
Plan a safe route
Since most Shift rides are social rides, use a bike map to make for a safe, leisurely route. Otherwise, note this to be a hell-raiser ride!
Be a leader (optional)
It's nice when one takes charge, has a voice, and lets everyone know what is going on before and during the ride. You can relax and be socialable at the destination end. Phew!
Dress Code (also optional)
Shift rides offer the out-of-the-ordinary because they are about a celebration verses a race or challenge. Therefore, you can suggest to riders a dress theme with which to express their enjoyment of being oot an 'bout on a bicycle. Go ahead, this crowd loves to get theatrical!
Food and beverage
Strangely, people bond better when filling their faces in close proximity to one another. Not recommended to eat during the ride, but suggest a potluck with a food store stop along the route.
An appropriate time
To assure your ride receives maximum ridership, avoid conflicts with other rides. Please check our fabulous calendar.
Get the word out
The best means of getting riders for your event is telling people about it in person. Having a handout really helps so people can remind themselves of your ride. Of course, let Shift know you have a ride event via our calendar submission.
Estimated departure
Chill-out. Whatever your specified time, leave fifteen minutes after so to allow for those cyclists caught in traffic :o) some time to arrive. Again Shift rides are not a race, so punctuality can be forfeited. Besides you'll be socially kewl when giving folks the extra breather to meet and chat.
A feeling of rejection
Sometimes people just don't show up to a ride. It happens. When it happens, be glad of the effort you made, and know your bicycle will ever always bring you happiness. It's true, we creative bikers are a fickle bunch, yet we are compassionate. So do let the Shift List know your feelings were hurt. Then pick up your spirits, and offer the ride again at another time.
What? Want More?
Here is an indepth take on leading a ride in this pdf document.
Happy Riding!