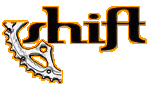 Bringing people together for Bike Fun
in Portland, Oregon



Join the SHIFT listserve!
Raise your awareness of what is happening in the bike community. Sign up for the SHIFT listserve. It's like a bulletin board of bike talk! Once subscribed, you have the option of receiving the list via email or not.

Volunteer!
Shift events need your energy. Easy, short stints available at many fun events. Including...

Breakfast on the Bridges is the last friday of every month.
Present breakfast to bike commuters in an interesting way -
on a bridge! Contact the crew.